Kinclune Estate and Organic Farm are an 1100 acre sustainable Organic mixed farm in Angus. They breed organic pure-bred Aberdeen Angus and Limousin cross cattle and maintain a small Organic sheep herd. They also breed, produce and show native Highland Ponies.
In this post, Clare Cooper from Bioregioning Tayside spoke with Dr Aylwin Pillai and Virginia Osborne-Antolovi who run the farm together with their brother, James Osborne, and parents Marguerite and Rowan. Virginia lives and works on Kinclune full-time having returned to the family business twelve years ago. Aylwin lives off the farm, but has worked full-time for the business for a couple of years now. Virginia, Aylwin, James and mother Marguerite are all lawyers by training and Aylwin holds a PhD in law, specialising land ownership and sustainable development.
Can you tell us where you're based?
We are six miles from Kirriemuir at the gateway to the Angus Glens. The farm stretches from the fertile, arable Vale of Strathmore to the heather-clad edge of the Cairngorms. We have different types of terrain and habitat in a small area and it's absolutely beautiful.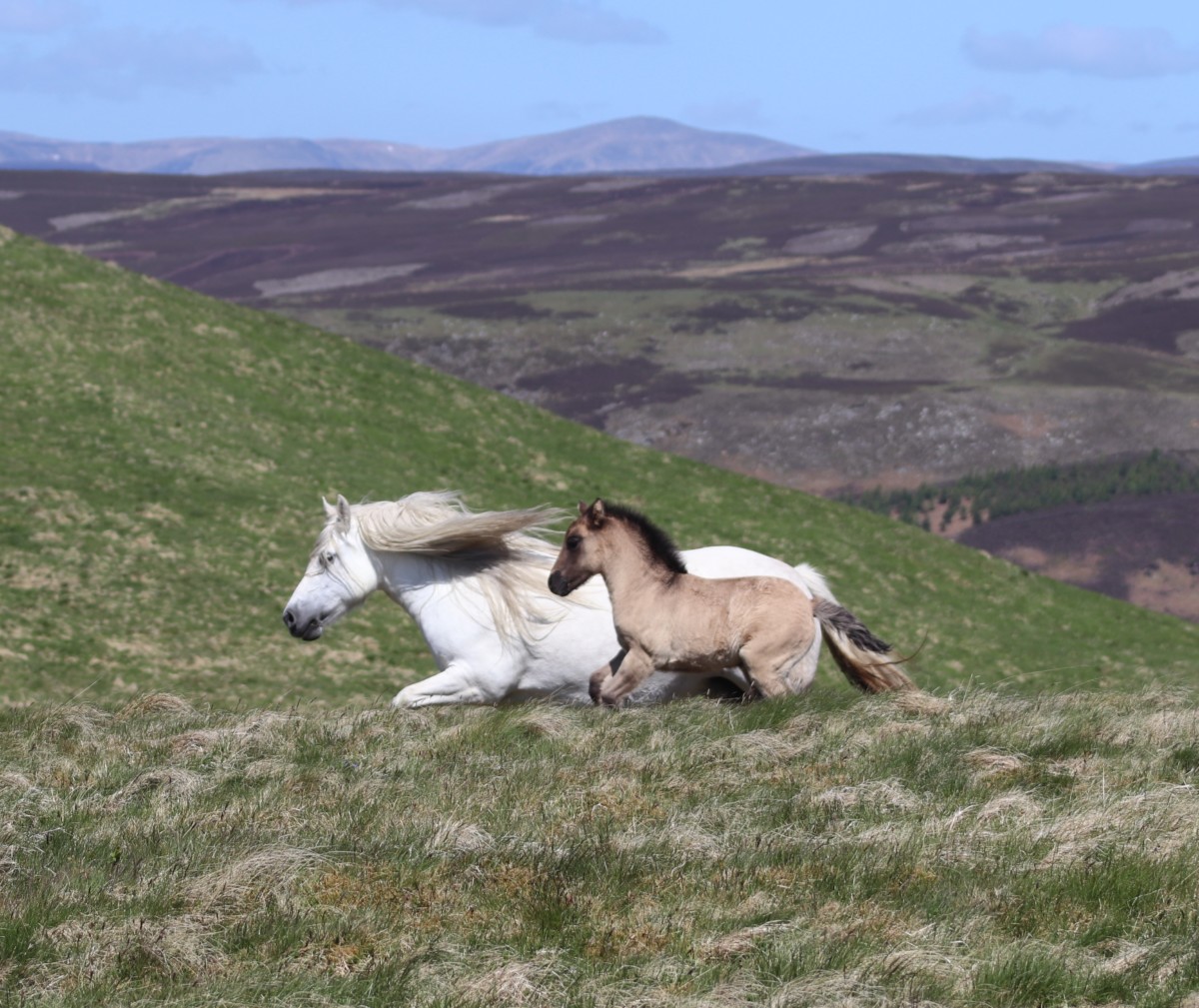 Highland Ponies on Kinclune Estate, photo Aylwin Pillai
Can you talk a little bit about your farm, what you do and the journey you've been on to get to where you are today?
We breed organic pure-bred Aberdeen Angus, Limousin-cross cattle, maintain a small organic sheep herd and breed and show Highland ponies. Our parents are older now and, as the next generation taking on the farm, we want to continue to look after it, diversify what we do and share Kinclune with the wider public.
We feel this drive towards diversification is partly forced change and partly optional change. The conventional farming model is being challenged now by increasing costs and the threat of cheaper food being imported, which is grown in a less environmentally-friendly way. Diversification offers us the opportunity to future proof the business and have longevity. We're also very aware of climate change and the fact it is the responsibility of our generation to act. There's been an awful lot of negative press about meat production, in particular, in relation to climate change. However, meat production in itself is not the problem. It's how you go about producing that meat. What we don't find helpful is the kind of media messaging that you get at the moment, which is that you have to be a vegan if you want to save the planet. We want consumers to be aware of the credentials of the products they're buying and to make informed choices to buy meat that has a lower carbon impact and is not damaging the planet, but is actually enhancing biodiversity and habitats. We are seeking a much more holistic approach, producing a sustainable product in a way that is really benefiting the environment around us, rather than just driving forward for production and efficiency.
Could you sum up the various diversification ideas that you're planning to bring onto the farm?
We're hoping to offer holiday accommodation and farm tours for our guests next year. (Since we held this interview, the holiday accommodation is now up and running see Aylwin and Virgina's fabulous new website: https://www.kinclune.co.uk) We've got amazing wildlife, native livestock and lots to show visitors to Kinclune. Because we breed and show Highland ponies we're looking to offer walks with a pony, carrying your binoculars and your picnic in a traditional stalking pannier.
Not only do we have a lovely location, but also amazing biodiversity. We have three species of bat, including a maternal roost of the specially protected and rare brown long-eared bat. We're working with the RSPB and Working for Waders on protecting and conserving our farmland birds, many of which are on the UK Red List as most threatened with extinction in the UK, including black grouse, skylark, cuckoo, lapwing and curlew. The project includes creating four 'wader scrapes' or wetland feeding areas for wading birds and their chicks and monitoring breeding success using nest cams. We're putting in bird hides, which guests will be able to enjoy as part of the farm tours. We've also got lots of brown hare, red squirrel and pine marten in our woodlands and otter regularly visit one of our two wildlife ponds.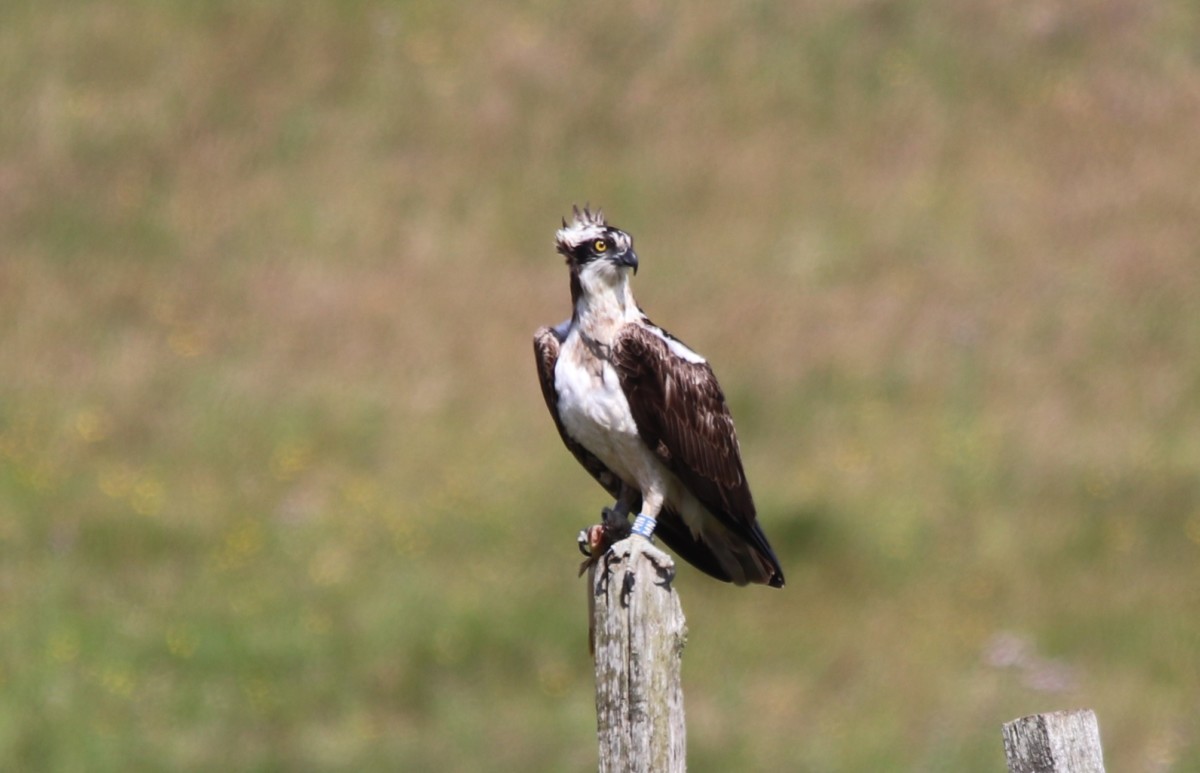 An Osprey on Kinclune Estate, photo Aylwin Pillai
What kinds of expertise or skills do you have or that you've learned that are helping you in this kind of new approach to the farm?
Environment is very much at the core of what our family have been interested in for decades. It's not something that's happened in the last couple of years. When I (Virginia) worked as a commercial solicitor, I spent time on the renewable energy team and we tried to get a small wind energy project on the farm. Unfortunately, at the time, the local political climate was not supportive. We have professional, commercial experience and stockman skills, passed down to us by our parents. You are managing your environment and managing your land, and we bring together our professional skills with our land management skills.
In terms of managing the land, we're really fortunate, our parents have literally spent their lifetime breeding cattle and highland ponies in a way that complements nature.
I (Aylwin) worked in Aberdeen University as a lecturer for eleven of years teaching aspects of environmental law, including species and habitat protection, renewable energy and sustainable development. So, for me, it's very much trying to put what I have learned and taught into practice on the ground with the 1100 acre patch that we've got. It's about assessing our natural and built resources and planning a way forward that is economically and environmentally sustainable and benefits the family and the community within which we live.
How would you describe your relationship to your place and to the natural world around it?
We do feel emotionally attached to Kinclune. First and foremost, we care about this piece of land. And Kinclune has affected a lot of people over the years too, not just our family. People stayed here during the wars for protection, when they were depopulating the cities of children because of the risk of bombing. Every now and then we get somebody visit Kinclune for that reason. We had a lady whose grandfather had been the farm Grieve here, and she came to visit and brought us beautiful photos of the old-fashioned haystacks. There was a Scout Cabin up on the hill and we get grown up Scouts come and visit us from time to time. It really is a beautiful place that has affected many lives, not just our own. We want to continue to allow Kinclune to work its magic on people. But whatever piece of land you have, as we face the challenges of climate change and species loss, there's a real obligation on you to leave it in a better place than you found it. So we've got to make changes that are positive for us and for future generations.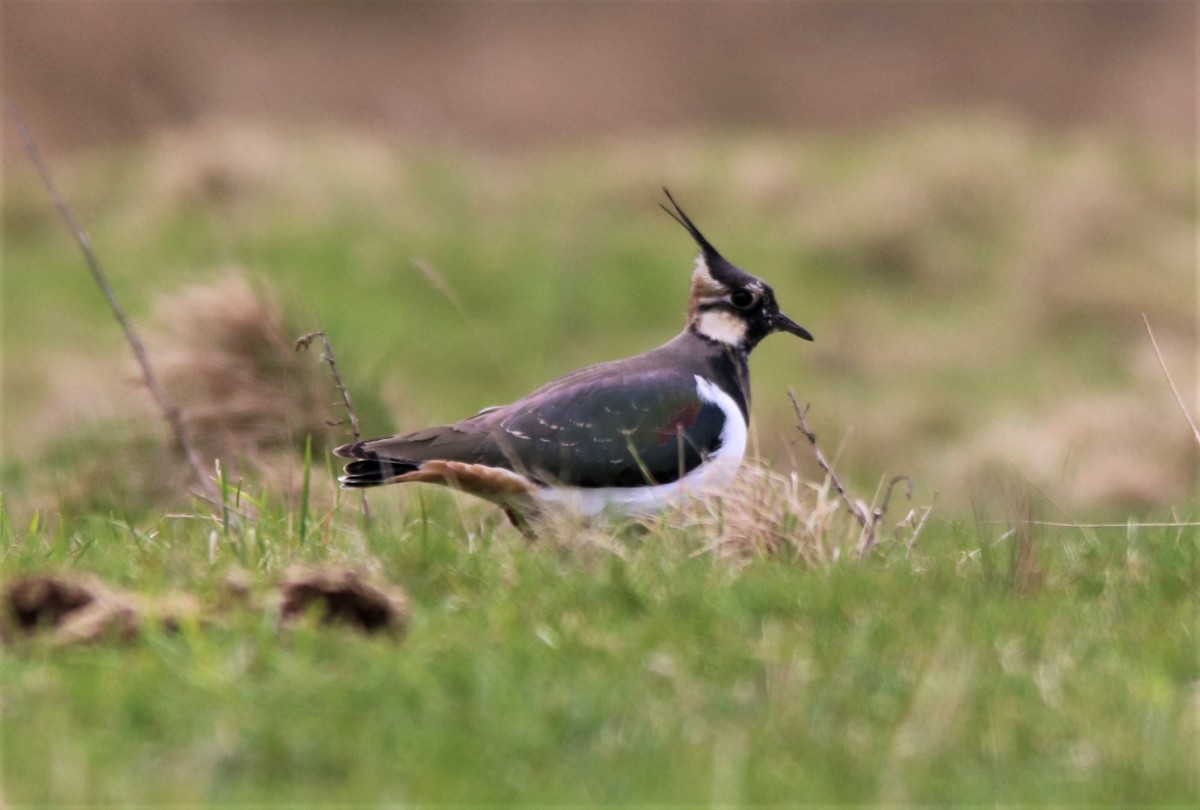 Lapwing on Kinclune Estate, photo Aylwin Pillai
And how are these crises of climate change and biodiversity collapse actually informing what you do and impacting on the way you think about what you do?
We do see ourselves as stewards of the land. It is our responsibility to look after it, not just from the point of view of making a living from the land, but also looking after it as a living ecosystem. That's why Virginia and I have done training on regenerative agriculture with Wilderculture. It is about taking an integrated approach to ecological restoration and food production. Farming with nature is really part of the solution to the challenges we face, not part of the problem.
Also, we've become involved with the fantastic local community group, Sustainable Kirriemuir (SK). We're really thrilled about working with them, together with other local landowners, looking at how, as part of the wider community we can think about sustainability and tackling climate change and how we can work together. This includes coming together to look at how local woodlands can be managed sustainably and collaboratively, connecting local businesses with an interest in sustainability and collectively and individually taking action to lower our carbon impact and encourage biodiversity. Through SK we were also able to contribute to the development of the Kirriemuir Climate Action Plan which is really exciting. So, we see ourselves as one of the pieces in that puzzle.
Are there top priorities around the climate and biodiversity crisis that you think everyone should be focusing on? And if there were three, what would they be for you?
There's got to be an element of prioritising. For us, it's about making our livestock and farming enterprise as carbon efficient as possible, protecting and enhancing our farm habitats for a diversity of species and, third, managing our woodlands under sustainable continuous cover forestry principles, so that rather than planting and clear-felling, we are continually ensuring that our woodlands are replenished for our benefit, for nature and for carbon sequestration.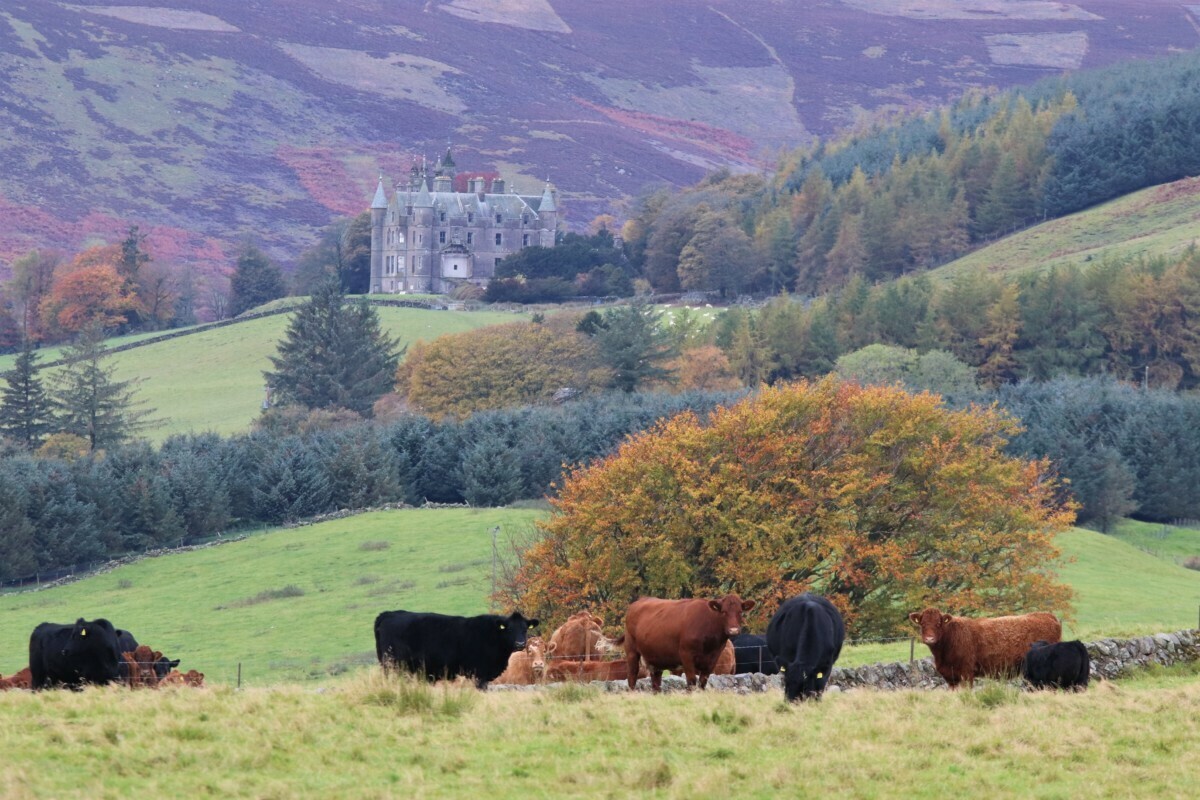 Kinclune organic cattle with Balintore Castle in background, photo Aylwin Pillai
How are you both feeling about the future? In the light of these huge challenges and crises we're facing?
Very positive.  I think I think we have lots of opportunities for Scottish farming, for tourism and for nature.
Are there people who you think are showing great leadership in your field in relation to these huge challenges that we're facing?
A large part of our inspiration is actually traditional practices of agriculture. To a large extent, you are stepping back in time with the regenerative agricultural movement. The way that we were actually farming 100 years ago was much better for the environment. And it was local, and it was community. I would also then have to say the way that my parents have farmed over the years has been very responsible, and very good for the environment. Before we were here, we farmed in  the Highlands on the banks of the Spey. My parents started off as tenant farmers and my mother's father before her was a tenant farmer. And the way that they were farming really was very closely related to what environmental bodies now call 'conservation grazing' with cattle and Highland ponies. Our parents continued that themselves. When our parents bought their first farm it was a  more intensive set up and system. Climate-wise, that was probably the worst period for us.  but it was at a time when you were really pushing production and relying on the headage support scheme We are really fortunate that our parents wanted to farm more extensively and so bought Kinclune and converted to organic farming. That has been an excellent move for us it and it has continued to be so.
Roe deer on Kinclune, photo Aylwin Pillai
Is there anything else that you can say about what this notion of community feels like for you at this particular moment in history? Is it is it something that you're becoming more connected to?
Definitely. So, we are relative newcomers to the Kirriemuir area, having only been there 20 years! COVID has, oddly enough, brought wonderful opportunities to connect with people that we wouldn't have done before over zoom. I think there is a public desire to know more about how land is managed and how food is produced. One of the best things over the past year has been getting involved with Sustainable Kirriemuir. They are absolutely passionate about growing their own food and living, individually and as households, in a way that is really sustainable and climate friendly. It's really invigorating to be part of an organised, local movement. It has brought out our shared concern for the environment for sustainability, for making the best out of the area that we live in. I think engaging with our local community, engaging with the farming community through the Agritourism Alliance, the NFUS and the Nature Friendly Farming Network, with local businesses through the Angus Tourism Cooperative and with research communities and environmental bodies, all of those things are absolutely fundamentally important. To optimise your own positive contribution, you shouldn't be working alone. You have to be joining up with other organisations, groups and landowners in your area. And your contribution will be far greater for that collaboration.
Do you do you see the need for more cooperation between public bodies and networks? Or do you feel that in your world that's operating quite well?
Yes. There are a lot of policy conflicts around land ownership and land management, and around how you manage land sustainably. The forestry issue is a really good example because, while forestry is good for carbon sequestration, it isn't necessarily good for ground nesting farmland birds like waders and skylark. The curlew for example is finding its habitat is decimated by the drive for afforestation. The government bodies and policy objectives don't always seem to be working seamlessly together for the same aims. The tension over species reintroductions such as the beaver, red kite and sea eagle is another example. There's never going to be a position where there isn't a need for more collaboration and more dialogue, because bodies can't work in silos on their own objectives, ignoring other perspectives. A great way to move forward for Scotland and what we're hoping for is that you bring the surrounding economy up with you. By diversifying into tourism, you bring up the stewardship and the management of the environment around you, because you're managing it well for the environment. It looks nice for tourists and it benefits everybody else. And you're producing a food product that is very sustainable and that has very good carbon credentials. All of this is connected. And all of this needs support from the government. And part of that is enabling economically viable tourism development to go ahead by providing infrastructure or support to allow that to happen.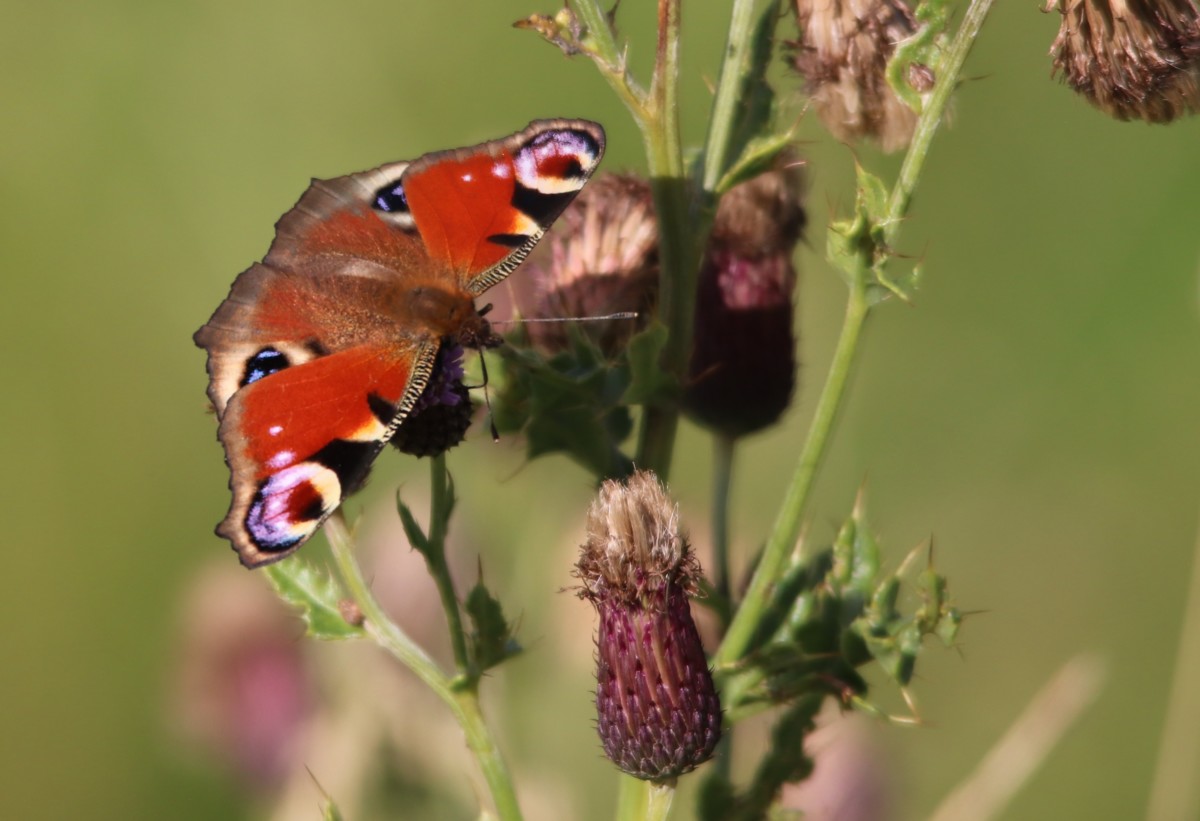 A Peacock  butterfly, photo Aylwin Pillai
Are there things that you would love to develop if resources were constrained or managed differently?
Yes, rural infrastructure is an issue. You really need the infrastructure and resource in place to help you diversify. It inhibits your scale of ambition if the infrastructure and the support isn't there in place for you. Also we feel Angus has not had the support that the Highlands have had, nor the recognition that it deserves as a region. We're on the edge of the Cairngorms, but just outside the boundary of the Cairngorm National Park. We feel Angus has got huge potential, but has been somewhat left behind.
So, in terms of the journey, you've been on to where you are now, has there been any kind of particular OMG, or  inspirational, 'aha' moments where you thought, yes, that's exactly the direction of travel that we want to go in, or I've never thought about that before. And it's energised you into taking some of the actions that you've been talking about.
The book, Wilding, by Isabella Tree about the Knepp estate was inspirational for us. That's what started us going down our journey looking further into regenerative agriculture. We're already practising many of the elements of regenerative agriculture, but we can improve. And we're on that journey. I think, also, it's been a revelation to us recognising that we are managing an ecosystem and several little micro ecosystems as well with the woodlands and the wetlands. That's been eye opening, and wonderful for us. The Wilderculture Regenerative Agriculture course has been really eye opening in terms of managing our environment and using herbivores to benefit the environment by building soil and bringing grass. With grass and trees, you bring rain. Using managed herbivore grazing you can improve the soil structure and quality by adding organic matter. By managing your soil and soil cover you're creating a refrigerator effect for the planet rather than a radiator. You're cooling the planet! That certainly is inspirational.
This entry was posted in
Bioregioning Projects