The MAXwell Centre
The MAXwell is a community centre and garden based in the heart of Dundee's Coldside. They are committed to improving the quality of life for the local community and to combatting social exclusion, poverty, disadvantage, and discrimination. The centre provides a welcoming and empowering environment, open to everyone, to socialize, access information and learn new skills.
In this post, Martha Smart from Bioregioning Tayside spoke with Nadège Depiesse to find out more about their story.
Martha
Welcome Nadège! It is great to have you! Please tell me a wee bit about yourself, what you do at the MAXwell Centre, and the overall journey the centre has been on so far. It's such a fantastic project and it's just down the road from where I live so I've seen first-hand how wonderful it has been for the community in the Hilltown.
Nadège
I started working there last year when the lockdown began so I had quite a different experience from my colleagues. I am a garden assistant, I work with the garden mentor and I'm also running adult cooking groups using all the vegetables that we have in the garden. The centre was created in 1995 I think, so it's been a while. The garden itself was created in 2012 so it's still fairly recent. It's great to have a safe green space in the Hilltown, somewhere you know you can go to learn, to try, to fail, and to try again, then harvest! The MAXwell centre is really a happy place. It's the first time I've seen everyone being happy to come to work, even if you've had a bad day, you're like, "oh, no, no, I need to go to the MAXwell centre". It means a lot when a team are happy working together on different projects like that.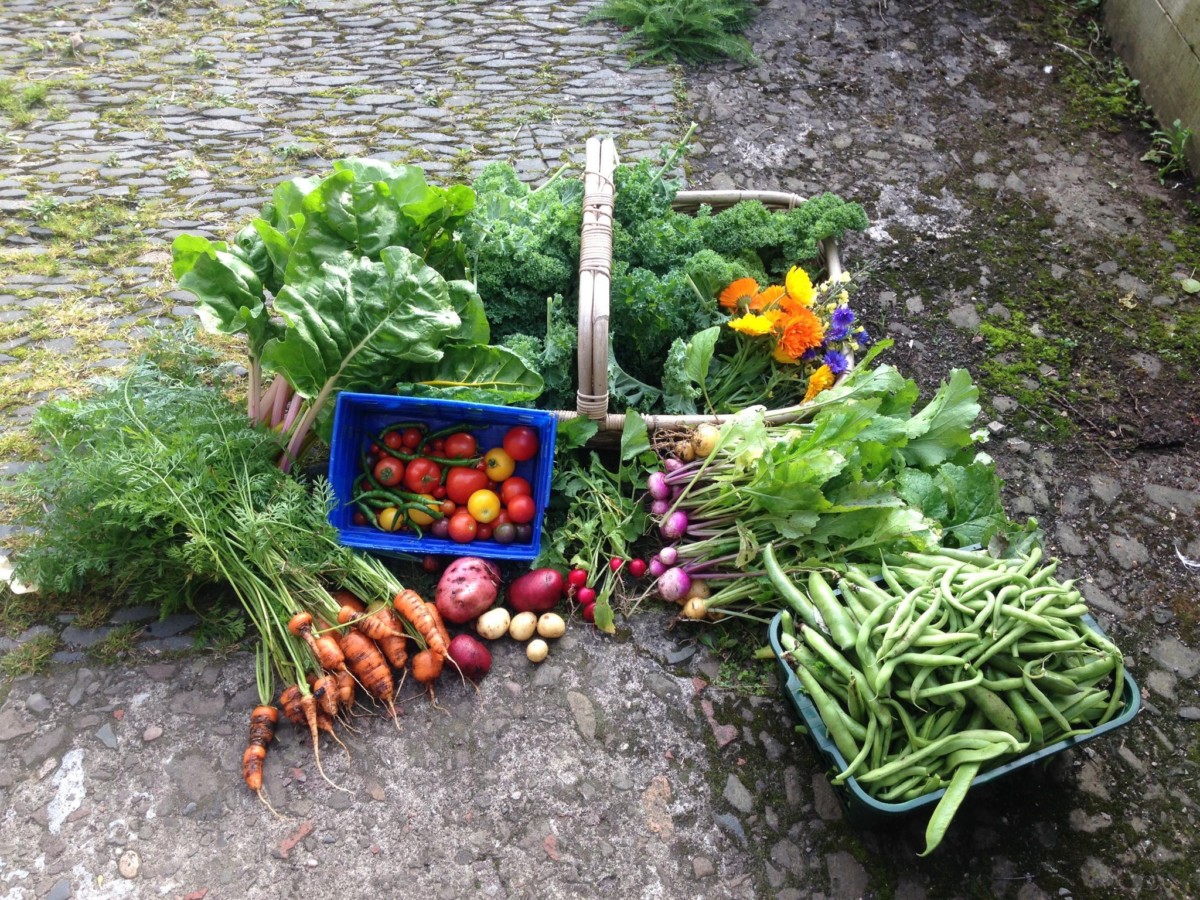 Harvest, photo, The MAXwell Centre
We have also have two youth workers who work with the kids doing things like gardening, experimenting with new things, and cooking. So, the whole education is there and that is really the base of everything.
"If you want to help families or the wider community you start by showing kids how to do it for themselves, that's really the beginning."
Our garden mentor does a lot of other stuff with the wider community too and we have volunteers who come and help, it's really great.
We're also going to have a seed and tool library because, you know, sometimes you want to start a garden but you don't have a fork or you don't have a rake, then need to pay for it and perhaps you're not entirely sure what to do with it. With the tool library, if you want a fork you can borrow one for two weeks and when you're done you bring it back! There's a sense of community in that and you also reduce waste and cost. The MAXwell centre is touching everything, it's helping people with low income, it's helping people with mental health difficulties, families, the community, people in isolation…because money is not everything, you need contact, you need a place to connect with other people and to share. That's why this is just such a great place!
Martha
Yes absolutely! Where did the inspiration or motivation come from to start the community garden?
Nadège
I'm not entirely sure. The centre is located in an area of Dundee which is considered to be quite poor with different issues related to insecurity. Having access to green space is very important to try and help tackle some of those issues. There are so many studies now saying how great gardening is for mental health, if you're young or old it doesn't really matter! I think that was the link, you know, you can help people with a foodbank referral but that's a short-term solution, it has to be there but if you want to help people in the long term and involve the community you need something else. If you're proud of where you live you have less insecurity. People can come and say, "I done this", that sense of pride is very important.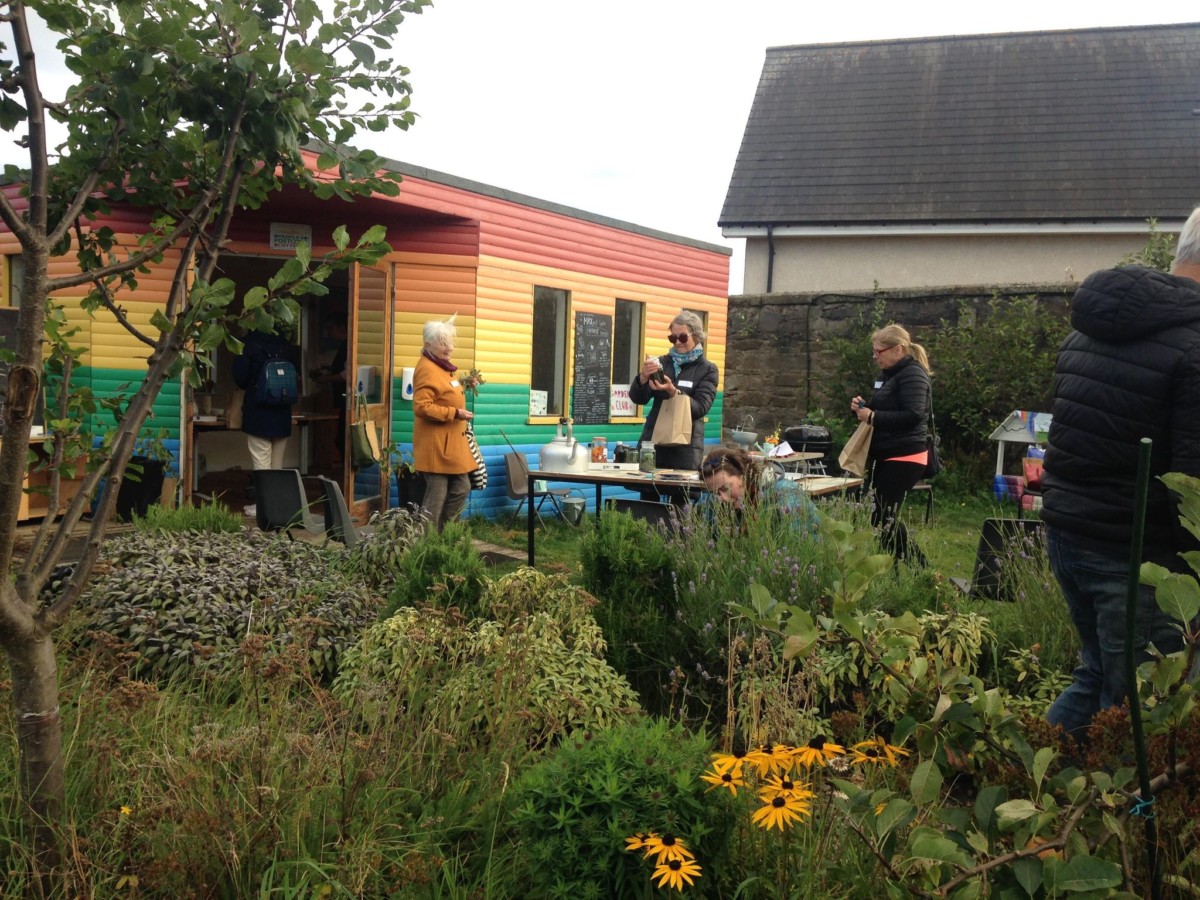 Special Harvesting & Tea Tour, photo The MAXwell Centre
Martha
That is really good point. We've got this terrible food crisis in our city and the Food Insecurity Network that was set up over lockdown has been so inspiring but at the same time it's very depressing that so many people are struggling like this. That's the beautiful thing about the garden, it's helping people to reconnect with food, to grow their own food, to cook their own food, it's massive thing, isn't it?
Nadège
Yes. The lady who was working in the adult cooking group before made a cooking book with all the things you get in food bank bags. It was low cost but it was something more than just opening a tin and putting in a microwave, it was about mixing and trying different flavors. So now with the cooking groups I deliver bags or they come and collect and it's the same low cost but with lentils, some spices, and different recipes. You can have the same ingredients but have a different dish that is still affordable. It's something like 40p per person that you spend and you can treat yourself as well, if you want a cake then it has instructions on how to make a tiffin or a scone. That way people don't have to spend a lot of money to eat different things, it's about experimenting with what you have.
Martha
You've also got that fab food cupboard outside too, I've taken a couple of potatoes and carrots for dinner on my way home. It's just got a lovely community feel to it mainly because the food is there for anyone to take.
Nadège
We received extra funding during the first lockdown to have more vegetables because we couldn't have anyone in the garden and there was only two of us doing it all so it was hard to keep up. Usually people were taking part in the gardening and honestly there's a difference between having a clean potato and going into the ground to harvest a dirty potato yourself, so we kind of lost that. But every week we had harvest boxes with lots of veg, people could order them with recipes as well and some of the veggies were left dirty because that's the way it is!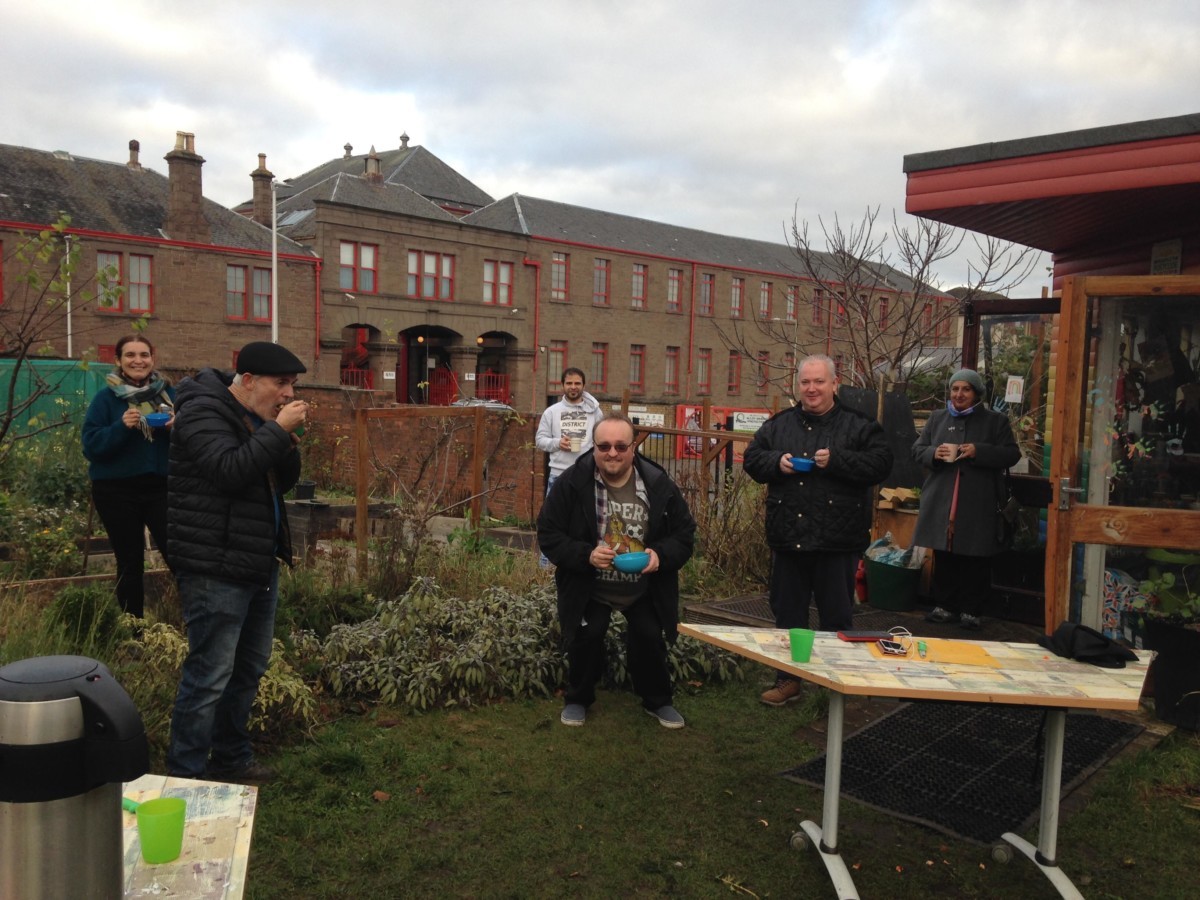 Everyone's Kitche, photo  The MAXwell Centre
Martha
There's just something about pulling a potato out of the ground yourself and it's very different to buying a bag of potatoes at the shop, it establishes that connection, doesn't it?
Nadège
Yeah, and to see that the potato might be a bit weird looking too. We tried growing carrots last year, I spent so much time sieving the soil wanting it to be perfect and it was such a fail! I thought, "oh my God, I'm so bad at growing carrots!", but it was fine, they looked very weird but they were good! It doesn't matter!
Martha
Ha-ha I love it! My carrots last year were the same, and tiny too! How did you get involved with the project? I'm interested to hear what skills you brought with you but also what you have learned along the way, besides having to deal with wonky carrots?
Nadège
I've been involved for about two years. I was working in a social café and volunteering sometimes at the MAXwell. I've always loved gardening. I had been studying in France for some time and then I thought, you know what, I just want to do gardening- that's what I really want to do! So, I volunteered for a bit then applied.
"When you're in a garden and when you work with the community you learn every day, about people, about plants, about edible weeds that you were pulling out every time and now they can go in the salad, you're left thinking, God that's just amazing!"
It's very much about learning all together and it's nice to have people from different backgrounds, I'm French, we have Polish people, Pakistani people, Spanish people, there's a great sense of international background within the community.
Martha
Out of curiosity, what did you study?
Nadège
I studied business and tourism, but I didn't really find jobs in tourism here. I worked at the museum in Alyth for a while just covering a few shifts and I was working for museums in Perth. Now I'm at college studying horticulture.
Martha
That's wonderful, you really have fallen in love with gardening! How would you describe your relationship to place or to the natural world around you and the environment that you live and work?
Nadège
I'm genuinely feeling very grateful for what's here. I think the Hilltown is quite green, but you can always improve it and that's what Manuela, the garden mentor, wants to do. There is always space for more but generally I'm feeling just grateful.
Martha
We have spoken about this horrible COVID crisis that we're still enduring but alongside that we're also trying to deal with the climate and biodiversity crisis. How much does that inform what you do the MAXwell?
Nadège
We try to be as local as possible, if we have to buy plants we'll go to local nursery. It's not always possible, sometimes it's just tricky, especially now as it's all online and if it's a small business, a small nursery, they might be overwhelmed very quickly. We also try to reduce waste, even with the recipes, it's about using leaves, or stuff that you would usually put in the bin like the stock of broccoli. The seed and tool library are the same, it's about reusing, we had some donations of new tools from ASDA but we also had people who donated stuff that needed a new community home.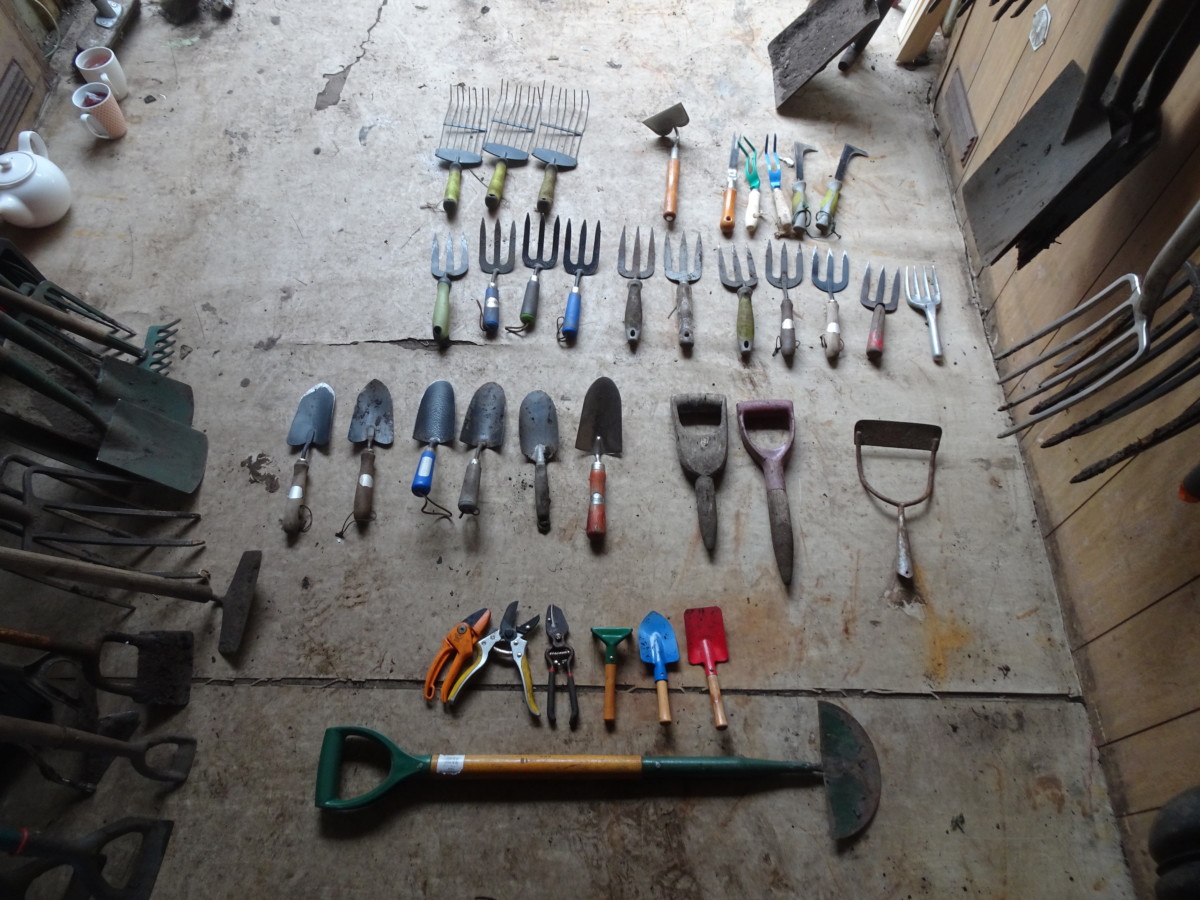 Inventory for Library Tool, photo The MAXwell Centre
Martha
Do you feel like the climate and biodiversity crisis is fundamentally part of what you're doing? It seems on a local level you are not only talking about this crisis but you're also doing specific things to try and overcome it.
Nadège
Yes, I think is not a case of telling people 'you need to do this' or 'you need to do that'. The MAXwell centre will set an example of what you could do.
"We are in a hurry to fight climate change, but you need to be on your own journey. If you tell someone 'you're doing that wrong, you have to this', that will not work. It's about examples and trying different things, sometimes they work and sometimes they don't, but we can say together-this is what we have achieved".
We're trying different things like collecting rainwater rather than using the tap. We have a compost heap too. Small things like that which are examples for people of the different things you can do in the garden to help.
Martha
That is such an important point, it's not actually about dictating to people how they should live but actually offering people different ways of doing things. How do you feel about the future considering COVID and the climate and biodiversity crisis?
Nadège
It is going to be tricky. I just hope. I think because of COVID we've had to find solutions and a way of doing things differently. For example, with the cooking groups, we couldn't use the kitchen so we went outside for barbecues, even in winter. In the end it was nice, you realise that you can just put an extra layer on and be outside most of the time. I think that's part of what we're trying to do at the MAXwell centre, get the message across that you don't need much to be happy. The youth workers have been doing activities on zoom and the kids have really been enjoying it. So, it's not about having the fanciest phone or the fanciest holiday, but more about enjoying what you can do.
Martha
It's amazing how you've adapted to COVID and found new and interesting ways of doing things. I guess that must give you hope that even though the future might look bleak, whether it's because of the climate crisis or poverty, issues that feel so systemic, you have found simple ways to bring the community together even in the hardest times.
Nadège
Yeah, you're right. I mean for the Hilltown park, or the Hilltown Plaza as we like to call it, Manuela has put a competition together for the kids asking them to imagine what the park could be like or what they would want in the park. We posted things on social media, distributed some flyers, and she received over 40 drawings! People really want to get involved and it's about imagining it, it doesn't have to be real, if you want a huge castle that great! You need something to look forward to.
Martha
I seen some of the drawings and they were fantastic, a trampoline park, a petting zoo, epic climbing frames, even a swimming pool, all very exiting! Helping to facilitate imagination is a wonderful thing and something we probably don't do enough of, giving children and people chances to use their imagination and spaces where they can have dreams.
Nadège
Exactly. Yeah,
Martha
Who do you draw inspiration from?
Nadège
I think mostly it's about networking and knowing the people who are working towards the same goals that way you can link all together. I know Bristol are doing something similar to the seed library and there are great local projects like PLANT in Tayport.  We also had support from local businesses like the DCA who run different activities.
I don't have one person who I can say 'Yes! That's the way to go'! It's more inspiration that you adapt to your situation. For example, you watch some videos from Trellis who support therapeutic gardening and horticulture and you get some great ideas. The idea for the straw bale garden came from a book I bought from a gentleman in the US and we're going to try and create something similar. It is all about networking with ideas, we now have a Facebook page called GROW Dundee which is to help link people up for sharing different growing tips or swapping cuttings. It has been really successful. Not everyone has Facebook though so we also post on our website blog, different recipes from the garden, what the kids have been up to, there's also a map of the different allotments, gardens, and places to forage which is important as well.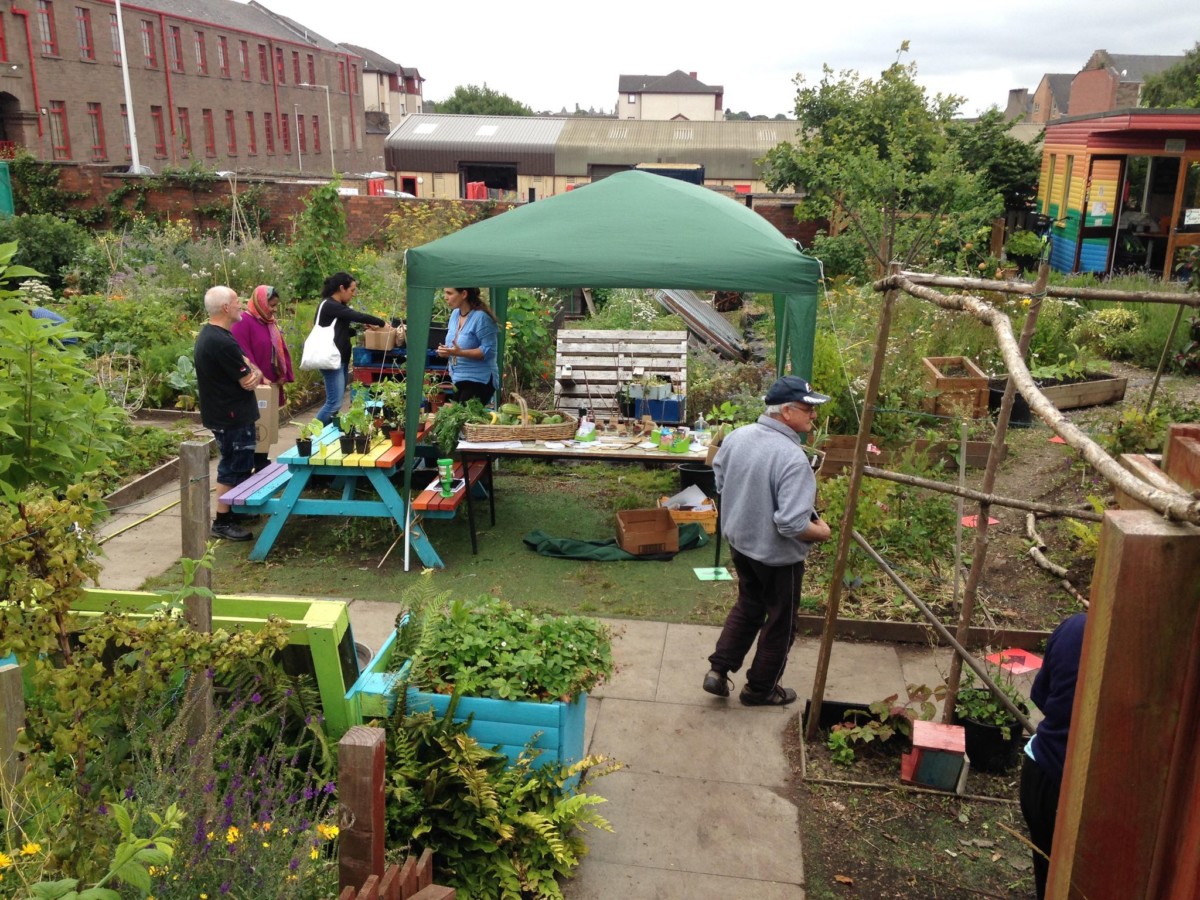 Plant Swap, photo The MAXwell Centre
Martha
Mapping what is there already is so important and that links with a lot of what Bioregioning is trying to do. I didn't know you had foraging sites on your website, brilliant!
Nadège
Definitely. For foraging though it's very important that people are aware it's okay to eat some weeds but at the same time you need to be knowledgeable. If you want to go foraging you need two books at least to compare, it's best to have a proper guide with you. It's fun with dandelions because you see them everywhere, but the rest might be a bit more tricky. At the MAXwell we have a lot of edible weeds we like to teach people about and let them try, things like wild garlic, garlic mustard, and chickweed. For some people nettle is just something annoying but when you tell them you can make nettle soup, or you can make tea, or compost for the plants because it has a lot of nutrients, people are like "oh really?!". When you have a good meal from things you've been foraging for yourself it leaves you feeling nice and surprised that actually you don't need to spend a fortune. When we're cooking I will eat things first to show people it is safe, we never force people if they don't feel like it, but your showing them they have the option.
Martha
Sometimes it feels like we have lost a lot of fundamental knowledge about the plants that grow around us and you're reinvigorating that by teaching people about the things that grow where they live and the different uses for those things.
Nadège
Yeah, definitely. I think we are in a world where everything is going super fast, technology, work, you need to wake up, you need to do this and that, you don't have much flexibility. You might have a family or someone to take care of so it's easy to go to the shop and buy something affordable. But when you're in the garden it takes time, you can't rush a plant.  It's the same with the internet, there's so much information that it's overwhelming. When you have a book, you go through the book one page at a time.
The way the garden is set up makes it a garden for everyone. We have raised beds or crops just on ground level. So, if you're a kid and you're using the raised beds you're gonna see everything and it's like a whole world for your eyes. If you walk with a stick or you're in a wheelchair then it's great as well because you have everything on chest level. It's your own journey through the garden, if you just want to go and sit then that's doing something, just enjoying, listening and hearing. For me too, I'm not very patient with myself but when I'm in the garden I'm forced just to relax.
Martha
What does community mean, for what you do?
Nadège
Community is inclusion, it's welcoming everyone. It doesn't matter what your income is, your background, your age, it's about holding everyone together. Some people feel excluded because of their income and having to ask to use a food bank might be difficult, or Brexit might affect some people who are not originally from UK, but it doesn't matter when you come to the MAXwell center. Like I said earlier, when you know your neighbour you feel safer. If someone says hi to you in the street and smiles because they recognise you from the garden you feel a sense of calm, you feel acknowledged.
Martha
Absolutely. I think one of the good things to emerge from COVID has been an inspiring upsurge in community solidarity. It has helped us realise how much we all depend on each other.
Nadège
Definitely. For me, because we can't be all together in the cooking groups, I'm making up recipe bags for people and they have all been sending me lovely pictures of what they've been cooking. I'm so happy when I see them because I spend time thinking about the recipes and I'm never sure if people will like them. To hear from people "that's such a great recipe, I won't buy this in the shop anymore, I'm going to do it myself!", that's such an achievement and a very nice feeling. Of course, sometimes it can be tricky because you're not touching a lot of people, it's just a small part of the community. But at the same time, because we post everything online we have lot's of people saying "Oh, actually, I'm going to try this!". So, it spreads slowly and slowly, it's like… planting a seed and then getting the harvest ha-ha!
Martha
Ha-ha smooth I see what you did there! You've already made the point that not everything is about money but if you had unlimited resources or if resources were managed differently, what would you love to do in the garden?
Nadège
I think it's nice to have different ways of growing, you can grow without soil, with straw bales, hydroponically, or you could have a huge aquaponic system with some fish. They would all be nice to have because different systems show that just because you don't have space doesn't mean you can't grow, you just have to be different. If we're going crazy, I'd love to have beehives! because honey is expensive, but if it's something local then you can provide it to the community. To be a self-sufficient community in that way would be amazing. I think we would need a bigger garden though ha-ha!
We are always expanding and doing more workshops but it can be quite time consuming. We have working hours and are either in the garden or doing social media, but it's all juggling. Sometimes it would be good to have more than two people on a project. So, if someone is going away, or someone is not there for any reason, you have someone else to be there.
Martha
In your journey to where you are is there a particular moment or memory which really meant something to you and that stays with you? Maybe it made you feel like what you were doing was really worthwhile?
Nadège
One gentleman who was coming to the cooking groups was staying in a residence for homeless people and he was very low, most of our conversations were quite dark and negative, he really needed cheered up. At the class he said, "hey, I don't cook. I don't know what to do" and I was like "that's great because that's why you're here, we're going to try!". He wasn't sure how to chop an onion, so I was showing him and then I think he was expecting me to do it, but I reminded him "no no! you are the chef here" and together we made a Christmas wreath (it's kind of like a pizza but with the toppings from the garden). Afterwards he said, "that's the best thing I've ever tried", and I reminded him…"and you've made it yourself", "Yeah! I made it myself!" he said, feeling very proud.  You don't need much to make someone happy and there is no reason for us to talk to someone as if they are not knowledgeable or to do things for them out of habit. Take your time, but do it, and it's going to be good. I think growing, and to a certain extent cooking as well, gives the power back to people, definitely.
This entry was posted in
Bioregioning Projects