On March 24th, at Discovery Point in Dundee, a group of around 100 people from across Tayside and beyond, met to discuss the crucial issue of how we feed our communities through the climate crisis.
Participants were drawn from across the breadth of the sector, including senior figures in the food and drink industry, politicians, civil servants, leaders of community garden and food bank initiatives, rural skills teachers, farmers and leading academics from Dundee's universities and the James Hutton Institute. The discussions of the day began the work of identifying what changes need to be made to transform Tayside's food system in the light of the climate and biodiversity crises.
Across the world, governments, businesses and communities are recognising that a global transformation is needed this decade in our food systems to deliver climate change mitigation and adaptation, safeguard biological diversity, improve food security and ensure and create more inclusive and resilient food economies that deliver healthier diets for all.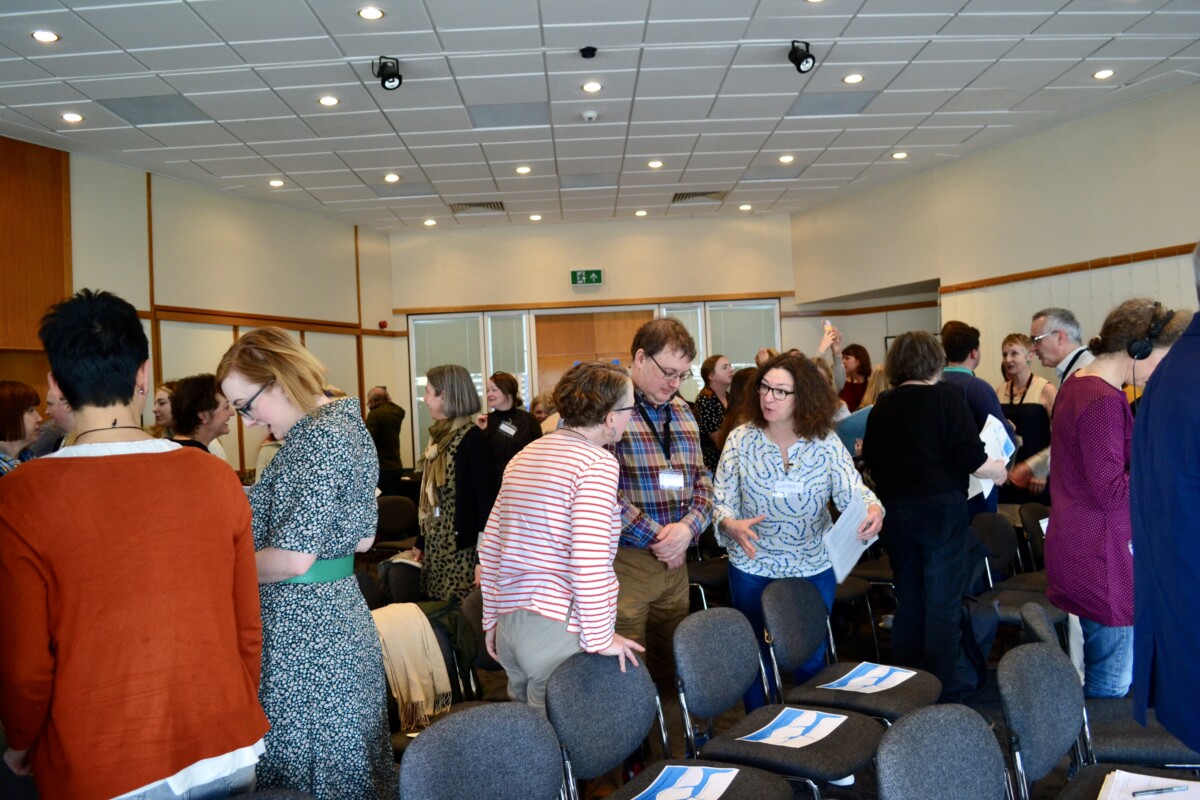 Conference  Participants
Our conference, followed discussions and on-site visits to a range of food producers in Tayside in 2022, and a dynamic workshop developing strategies based on social tipping point theory.  We are using the information gathered from these events to develop a framework for triggering urgent systemic change in Tayside's food system.
Inspired by the Food & Land use Coalition's methodology, participants shared their personal and professional experience to identify:
the goals and vision needed in Tayside
the enabling conditions for triggering systemic social tipping points (where behaviour change spreads quickly from a minority to a majority)
the positive/reinforcing behaviours throughout society we will need to activate
the interventions that will drive behaviour change
the actors who can accelerate or hamper the change we need
Panel sessions and breakout conversations focused on the conditions for systemic social tipping points and how these could be nurtured:
Kevin Frediani, Curator, Dundee Botanic Gardens, together with David Thomson, CEO of the Food & Drink Federation, Scotland and Geoff Squire, Emeritus Professor from the James Hutton Institute led a discussion about how to make the changes we need affordable to both food producers and the general population
Aylwin Pillai, Partner in Kinclune Estate & Organic Farm, Wendy Barrie, Founder and Director of the Scottish Food Guide and Carol McLaren CEO of RSABI helped us think through how shifting to more locally produced food could better support the wellbeing of farmers as well as offering people greater nutritional value
Journalist Ruth Watson, principal curator of the conference, Mark Bush, Owner of Summer Harvest Oils and Alison Goodfellow from Dundee's Maxwell Centre guided our thinking on how to make behaviour change financially and physically accessible to everyone
Vivienne Collie, Co-ordinator, Eat & Drink Dundee, Alex Brewster, Owner fo Rotmell Regenerative Farm and Gareth Ruddock, CEO of Perthbased Giraffe offered their suggestions on the interventions needed to create major behaviour change
Pete Ianetta, Head of Ecological Food Systems, James Hutton Institute, together with Peter Ritchie, Executive Director of Nourish Scotland and Martin Kennedy, President of the National Farmers Union for Scotland led our discussion on how to ensure that all the stakeholders in Tayside's food system had access to the information and capabilities required to enable the transformation we needed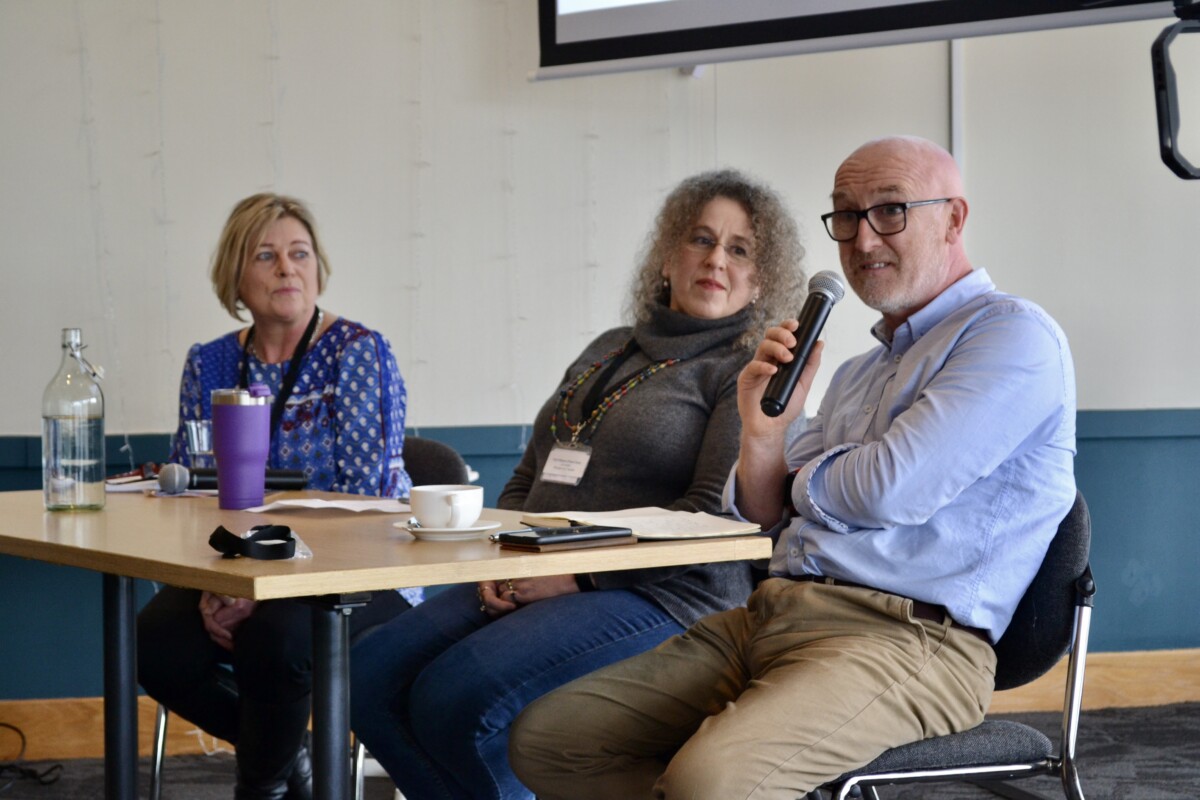 Alison Goodfellow, Ruth Watson and  Mark Bush, photo Clare Cooper
As the day unfolded, many areas of common ground were identified while differently-held views were openly expressed and discussed.
Fundamental issues and opportunities were identified.
Everyone agreed that:
Tayside encompasses a wealth of natural resources with some of the best farmland in Scotland, yet many of the area's growers were struggling to make a living; food outlets were facing closure; people are increasingly facing food poverty; and natural systems on which our food production depends are in crisis.
We need to develop a framework which puts wellbeing at the centre of food production and consumption. More community supported agriculture would mean fresh, local food on the shelves, a reduction in food miles, the nutritional quality we need for good health, and and investment in the resilience of our food supply.
Pete Ritchie underlined the problem that processing food can take away nutritional value while adding value in monetary terms and advocated that we need to push back and have less processed food in our lives. "We have concentrated convenience and access in very few places." He said. "The multiple retailers in the UK are phenomenally efficient in many ways, but it is problematic they concentrate our access to food. We now have a system that is predominantly dependent on long food chains. We are not particularly good at articulating what our food culture is. Our nature in Scotland is depleted, our food culture is depleted and we need to have a regenerative approach to our food culture, as well as our soils."
Martin Kennedy agreed that supporting local was key to the transformation we needed. However, he said "Everybody talks about local, but we don't have the facilities, we don't have the processing and we don't have the price. If the returns are there, then people will do it. And because there are no returns, is why we have lost the small processors."
He did not think that the transformation was possible until we value food properly. "Even with the increase in the cost of food, we are still only spending an average of 14% of our income on food. It's come up from around 9% in the last three years because of inflation." He said. "In the whole of Europe, we are paying the least for our food relative to our income and the third lowest in the world – it's not a great statistic. In France, they have 'local', but they are spending up to 20% of their disposable income on food because they value it."
Alex Brewster, from Rotmell Farm, in Perthshire, outlined the work being undertaken on his farm to move the farm to an ecological system of the landscape. He said: "Food is a convenience and we need to start talking about nutrition and we need to define what nutrition is. Nutrition should be 15% of any education curriculum – how to prepare it, how to eat it. At a local level, we have the chance to influence how people buy food. Society is starting to unpick that a lot of human health issues are down to the food we are eating, and all the chemistry that is going with it, and that hasn't been publicly acknowledged yet."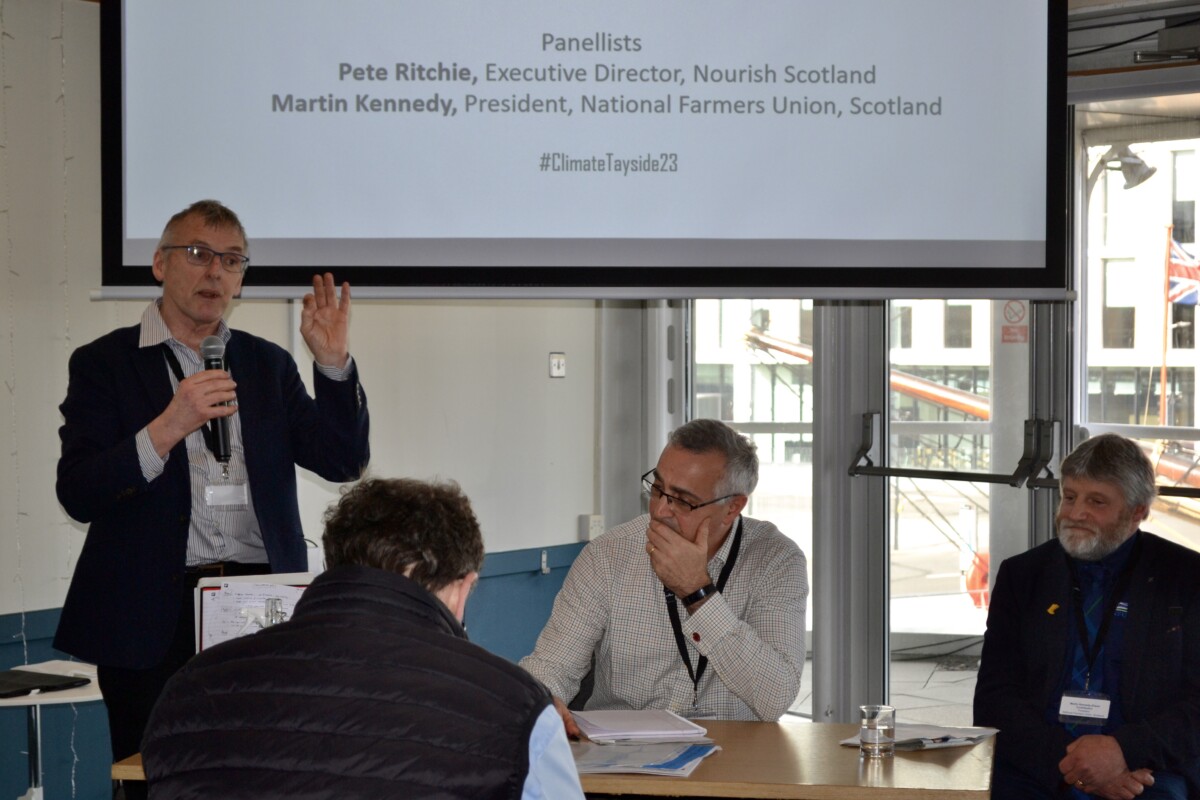 Pete Ritchie, Pete Ianetta and Martin Kennedy, photo Clare Cooper
A forthright discussion was held about the fact that prime agricultural land in Tayside is being used to grow crops for alcohol, which some said is not helping with food production. A number of responses pointed to by-products from those crops being used on arable and livestock farms, as well as the importance of whisky to the economy. Others underlined the impact of alcohol on many people's health and wellbeing and its role in fuelling domestic abuse and other forms of violence
Pete Ianetta spoke for many when he said "We know the the current food system is not protecting the world, our natural environment, the people who use it, or the farmers who provide the food."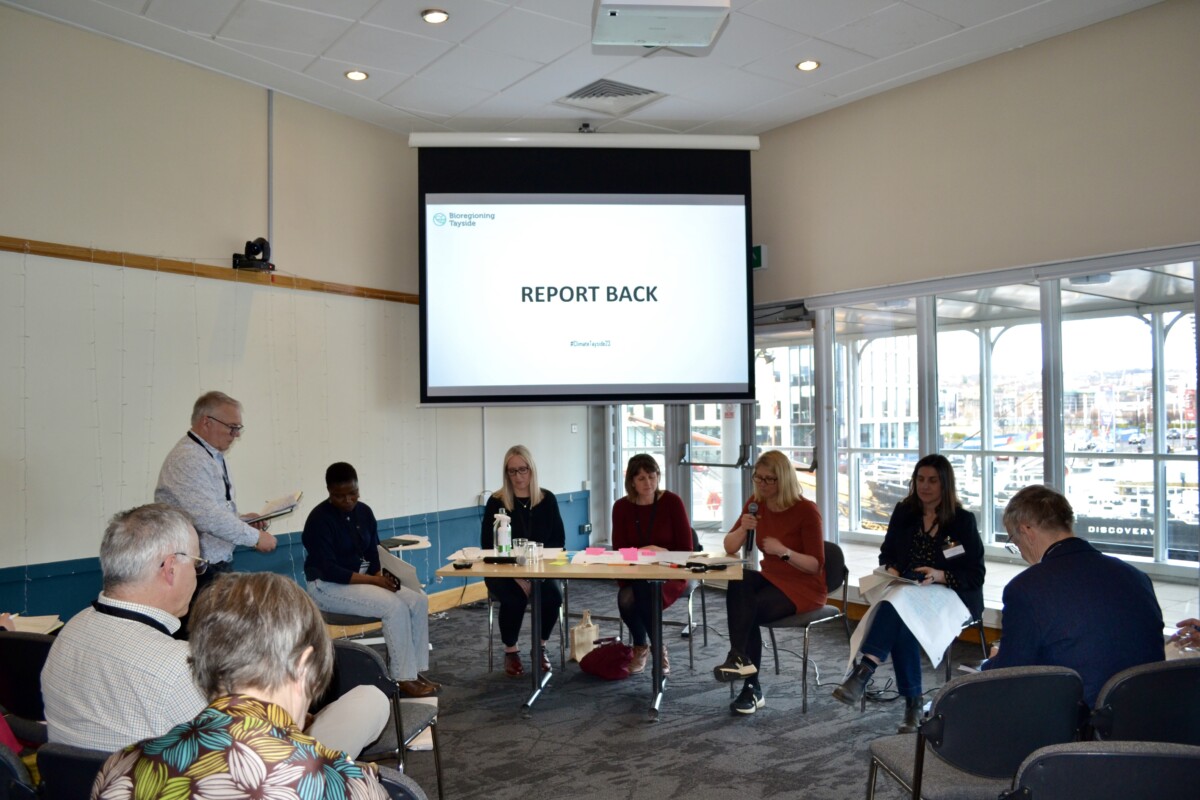 Breakout facilitators,  (L-R) Trinity Ndlovu,  Caishlan Sweeney,  Divindy Grant,  Naomi Clarke  and Alexandra Morel, photo Clare Cooper
Many issues were identified that needed urgent action to change:
the critical importance if restoring our soil quality

the need to re-value and re-introduce our indigenous crops
a lack of local infrastructure and processing

working out how to support competition in a global economic environment in a way that supports businesses and supply chains within the Tayside Bioregion

recognition of the immense challenges facing farmers and the impact that is having on their wellbeing
the fact that many people no longer have the skills or facilities to cook food, prepare meals, and cut food waste.
the central role our education system, from primary school onwards, needed to play in changing behaviour
reconnecting people to how their food was grown
the lack of understanding of the true cost of good nutritious food
the need for design systems and integrate thinking to drive forward urgent change
mapping community, regenerative and organic food producers in Tayside and connecting them to create a critical mass for change
a dearth of markets selling fresh local produce in the heart of urban and rural communities
learning from others in e.g. Europe and Ireland who are already making swift urgent changes to their food systems
the key role that the State need to play in funding and legislating to encourage behaviour change, for example adjusting local government procurement strategy to ensure schools provide children with freshly cooked, tasty, local produce grown using regenerative methods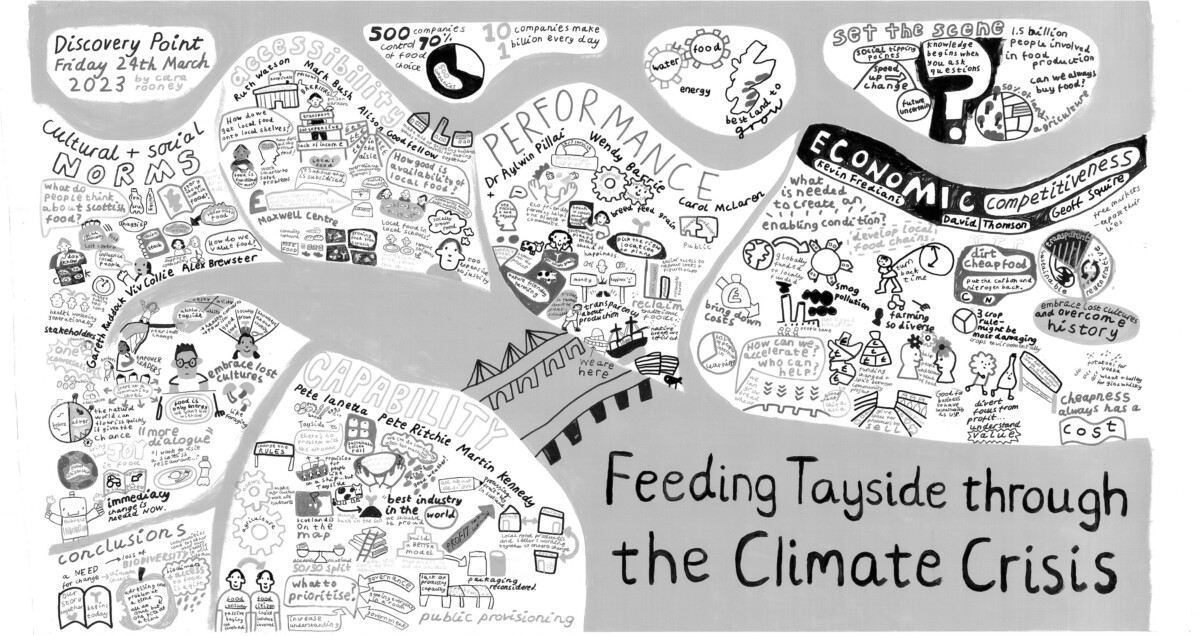 Illustration of the conference proceedings by Cara Rooney
Work has now begun on identifying key actors who can take these actions forward and enabling new collaborations to drive the urgent changes needed. Further events are being designed to bring stakeholders in Tayside's food system together over the summer with a second major conference planned for the autumn.
The conference was supported by the Scottish Rural Network, Dundee City Council and Perth & Kinross and Angus Council's together with the gifted time of the Working Group and Bioregioning Tayside team.
Watch the panel conversation on the economic changes we need to make below:
Watch the panel conversation on Accessibility below:
Watch the panel conversation on Capability below:
Watch the panel conversation on Culture & Society below:
This entry was posted in
News